Purim – Mishloach Manot
The Yidish author Shalom Alechem wrote several very funny yet realistic stories about Mishloach Manot.  In his story "Mishloach manot" He tells of two close friends each of which exhausted their Jewish domestic help on Purim by having them run around all of Kasrilevke to deliver mishloach manot.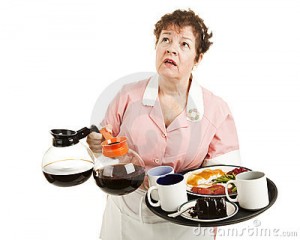 The two girls met each other on the way to deliver mishloach manot to their respective Bosses. Tired from schlepping, they sat down to talk about how all the people who received mishloach manot  had not  given them a reasonable tip. They were both mutually attacked by hunger and a need to consume the delicious vittles of Honey cake and a Huge Hamentashin. They ate each other's just to keep it even.
Upon delivery the receivers fainted and then flipped out. The next day at the store the Bosses mumbled at each other and pouted until their wives showed up and incited them to a fist fight. The whole Kasrilevke market place had to break them up. (Hebrew translation in "Yamim Tovim" published by Dvir La'am)
They did not talk to each other until one of the maids admitted what had happened then they were both immediately fired.
From the above story we learn that it is important to send a politically correct Mishloach Manot.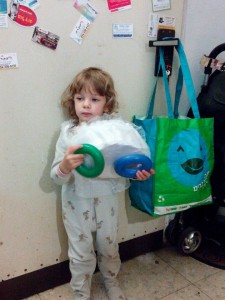 On Purim we send food items to each other.  Rabah was of a poor background and was still poor after being recognized as a Torah giant. He sent with Abaye to Mareh Bar Mar a basket with a leg of lamb and a cup of oven sweetened wheat. According to Maharsh"a these were simple gifts. To this Abaye in the name of Mareh bar Mar responded by saying another popular Aramaic expression, "When a peasant becomes king he eternally leaves the basket tied around his neck." Abaye then sent a Basket full of ginger and another cup full of pepper. To this, Rabah responded by saying yet another popular expression, "I sent you sweet things and you sent me hot things!" (Megila 7b and Yalkut Shimoni Esther 1159)
In order to avoid any of these conflicts many Syrian Jews were accustomed to prepare a single Mishloach Manot of several small items. Two food items is the minimum required by the Halacha. (Shulchan Aruch – Or Hachayim – 695 – 4) They would send this to a neighbor. When they would receive a mishloach manot they would change one item in it and pass it on to someone else or give this to the one who delivered one.