Mishloach Manot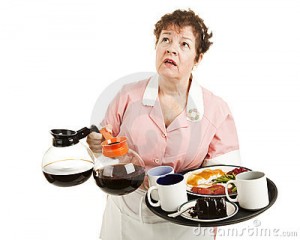 Shalom Alechem wrote several very funny yet realistic stories about Mishloach Manot.  In his story "Mishloach manot" He tells of two close friends each of which exhausted their Jewish domestic help on Purim by having them run around all of Kasrilevke to deliver mishloach manot. The two girls met each other on the way to deliver mishloach manot to their respective Bosses.
They were both mutually attacked by hunger and a need to consume the delicious vittles of Honey cake and a Huge Hamentashin. They ate each other's just to keep it even.
I have written the parchments for Tefillin, mezuzot, megilot and 4 Sifrey Torahs over the last 30 years. Lately, some have asked why they should order from me and not from the new competition which are all Yirey Shamayim religious people? Over 10 years ago, I started to offer "The Tefillin Experience" for Bar Mitzvah and anyone else. During these sessions you get to learn a ton of Torah and tradition surrounding the work of a Sofer, I am happy to do this for Megilot also. When the session is in person (not via Skype) you even get to write crowns on the letters and sew the tefillin closed. Soon after I started to offer the Tefillin Experience, a local Sofer started offering my educational experience. Today, Baruch Hashem, Sofrim all over teach and share knowledge with their customers. I feel like I started a movement to bring the holy work of a the sofer close to all of my customers. Click on the image to see a recent YouTube session with a customer via Facetime while I wrote his Perashiot for his tefillin. So please give me a ring to 516-595-1713 or 212-72-8094, in Israel 0544572366. See my catalog at
https://milknhoney.co.il
https://youtu.be/B43vyOF5g3k

Upon delivery the receivers fainted and then flipped out. The next day at the store the Bosses mumbled at each other and pouted until their wives showed up and incited them to a fist fight. The whole Kasrilevke market place had to break them up. (Hebrew translation in "Yamim Tovim" published by Dvir La'am)
They did not talk to each other until one of the maids admitted what had happened then they were both immediately fired.
From the following story we learn that it is important to send a politically correct Mishloach Manot.
On Purim we send food items to each other.  Rabah was of a poor background and was still poor after being recognized as a Torah giant. He sent with Abaye to Mareh Bar Mar a basket with a leg of lamb and a cup of oven sweetened wheat. According to Maharsh"a these were simple gifts. To this Abaye in the name of Mareh bar Mar responded by saying another popular Aramaic expression, "When a peasant becomes king he eternally leaves the basket tied around his neck." Abaye then sent a Basket full of ginger and another cup full of pepper. To this, Rabah responded by saying yet another popular expression, "I sent you sweet things and you sent me hot things!" (Megila 7b and Yalkut Shimoni Esther 1159)
In order to avoid any of these conflicts many Syrian Jews were accustomed to prepare a single Mishloach Manot of several small items. Two food items is the minimum required by the Halacha. (Shulchan Aruch – Or Hachayim – 695 – 4) They would send this to a neighbor. When they would receive a mishloach manot they would change one item in it and pass it on to someone else or give this to the one who delivered one.
Many halachic issues have arisen over the ages as to whether certain items may be used to fulfill this Mitzvah. Trumat Hadeshen (vol 1 – 111) stated that one does not fulfill the mitzvah by sending clothing or sheets as Mishloach Manot. Yalkut Yosef  states that one does not fulfill the mitzvah by sending an interesting  torah discussion (food for thought).  However,  I do suggest that you include this Torah discussion with your mishloach manot. (Halacha 5)
If you give someone satisfaction does that count as Mishloach Manot? Yalkut Yosef additionally states. that an "Important" person who is kind enough to receive mishloach manot from a simple person has not fulfilled the mitzvah of mishloach manot even though he has given tremendous enjoyment to the simple person. This is only enjoyment without food. (Halacha 18)
Our rabbis have stated that we must study the laws of Passover thirty days before the holiday. (Shulchan Aruch 429 – 1) Many have asked how we can fulfill this Mitzvah? thirty days before Passover is Purim. We are already busy with other Mitzvot and torah discussions.  It seems that many Jews think about Passover on Purim when they realize that they have only a month to finish all of the food delivered in Mishloach Manot. Therefore it seems that it is a very popular Halacha to discuss the laws of getting rid of Chametz thirty days before Passover.