The Yummy Spice of Hyssop
In Perashat Bo the Jewish people were commanded on the night of the plague against the first born to give a lamb as a sacrifice. The blood of the lamb was painted onto the doorpost in the place a Mezuzah belongs. The "paint brush" was a bunch of Hyssop. (Shemot 12, 22)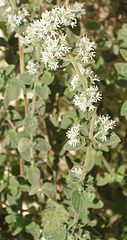 Hyssop is a plant that is today used as a spice and for Medicinal Purposes in Middle Eastern traditional medicine. Many people will recognize it as Za'atar.
It is a part of several special sacrifices in the Bet Hamikdash. It is used as a part of the purification of a leper and one who has been defiled by a dead body. It is also used as in making the ashes of the Red Heifer. The Samaritans claim that hyssop is an ideal brush for blood. This is because it is believed that the bristles in the flower prevent the blood from coagulating.
The book of Melachim (Kings 1 5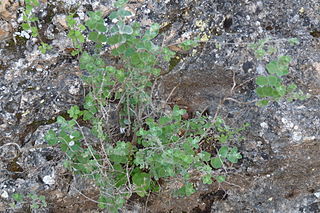 , 13) discusses the great Wisdom of Solomon, "And he spoke of trees, from the cedar that is in Lebanon even unto the hyssop that springeth out of the wall….." Ralba"g  explains that this pasuk means that King Solomon was so wise that he understood everything about these creations.
He understood how cedars and hyssop grow and of what physical, nutritional and medical uses they have. Ralba"g further states that he understood the qualitative differences between a Cedar which seems to be a far more complicated organism than rough and tumble Hyssop bush which is so tardy that it grows even in the cracks of walls. The Cedars of Lebanon have mostly disappeared with their underlying foliage.
After hundreds of years of trying to control the nature of rain forests we are learning that thousands of these plants have very important uses for mankind. The great Mahogany tree makes beautiful coffee tables. However, many medicines of great use to mankind are also found in the rain forest which we won't have if the rainforests are destroyed.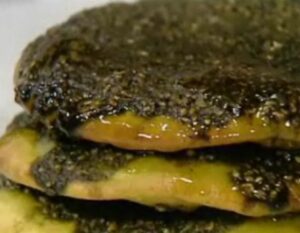 The most famous food made with Hyssop is Za'atar Bread This is a bread baked with a mixture of Hyssop, salt, sesame seeds and some other ingredients mixed with oil. This is on top of the dough like pizza. I often use it in a salad dressing with olive oil, balsamic vinegar and prepared techina sauce. Some use it like Rosemarie on meats.
Some believe that Hyssop is useful as an expectorant in a tea.